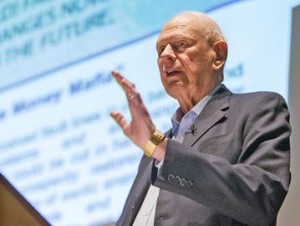 Former Canadian defence minister Paul Hellyer talked UFOs at a conference called Disclosure Toronto on April 11
Brant News
Brantford will be the centre of the universe for believers in alien life, UFOs and otherworldly experiences for three days in June.
The so-called "godfather of ufology" Stanton Friedman heads the list of top-flight speakers from across North America at the Alien Cosmic Expo (A.C.E.) being held at the Best Western Brant Park Inn on June 26, 27 and 28.
A nuclear physicist and lecturer, Stanton is scheduled to present "Flying Saucers and Science," a review the "overwhelming evidence" that Earth is being visited by intelligently controlled extraterrestrial spacecraft, organizers said in a release.
Stanton was the original civilian investigator of the incident at Roswell. Many believe an extraterrestrial spacecraft crashed near the New Mexico community in July 1947 and that the U.S. government – which maintains it was a weather balloon – continues to hide the truth.
He will share the podium with UFO historian and researcher Grant Cameron as keynote speakers on Friday, June 26.
Cameron will "provide evidence" that high-level Canadian and U.S. government officials have known about the extraterrestrial presence on Earth since the 1940s and also reveal the current interest of Hillary Clinton as she runs for president in 2016.
Stanton will close out the event on Sunday, June 28 by "revealing the truth" about Operation Majestic 12 or MJ-12, the code name given to an alleged secret organization of scientists, military leaders and government officials formed by former U.S. president Harry S. Truman for the recovery and investigation of downed alien spacecraft.
Brantford and area has been a hotspot for UFO enthusiasts and believers since a local chapter of the Mutual UFO Network (MUFON) formed late last summer.
MUFON field investigator and author Bob Mitchell, another of the featured speakers, said the three-day event offers an unprecedented lineup of 24 Canadian and international speakers.
Mitchell said people will want to hear Len Kasten speak about "Planet Serpo."
"It's a fascinating story, whether you believe it or not," Mitchell said. "The essential story is the American government sent a group of scientists and astronauts to another planet in the 1960s with the support of an alien race and they spent 20 years there."
Another featured speaker, Paul Hellyer, Canada's defence minister in the 1960s, made headlines in April when he called on governments to release all information they have on UFOs.
"He still is the highest ranking public official maybe in the world to admit that he believes that there are entities here and that they're involved with the governments," Mitchell said.
Hellyer and Jason Martell, Ancient Aliens expert of the History Channel, headline Saturday night's program.
"He's got a fascinating talk on a new theory of the Ark of the Covenant," Mitchell said of Martell.
Out-of-body experiences, alien encounters, past-life regression, soul readings and psychic are among the other topics speakers will discuss at the expo.
"This will be a pioneering adventure for cosmic experiences, abductees, experiencers and enthusiasts. A.C.E. is devoted to uniting individuals, who think outside of the box – and see what others deem impossible," said Jo-Anne Eadie, one of the organizers.
The conference's website – aliencosmicexpo.com – includes biographies of each speaker and a schedule of presenters and topics.
Guest speakers Lesley Mitchell-Clarke and Wes Roberts have been interviewing the presenters on their online radio program, Contact. The show airs on Sundays at 9 p.m. The website includes links to archived shows.
A sky watching night is being held at Brant Conservation Area for conference attendees who are camping that weekend.
A full-conference ticket good for all three days is $298. One-day passes for the Friday, Saturday or Sunday cost $125. Single tickets to the Friday night or Saturday night keynote addresses cost $35. The cost for single lectures is $25.
There's a free event on Friday from 8 a.m. to 10 a.m. where guests can mingle with the show's stars over a continental breakfast. Admission is by donation of a canned or non-perishable food item for the Brantford Food Bank. Pre-registration is required.