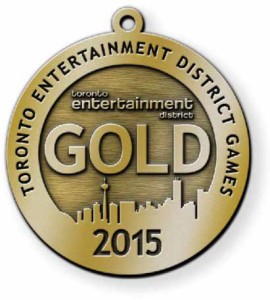 TOED to present 600 Entertainment District Gold Medals for good deeds, kindness:
FOR IMMEDIATE RELEASE:
July 7, 2015
Toronto, ONT. (TNWS) – These Games are Always on: The Toronto Entertainment District Business Improvement Area (TOED BIA) is awarding 600 Entertainment District Gold Medals to its customers for dining, playing and shopping in the neighbourhood between July 10 and July 19, 2015.
The Entertainment District Gold Medals are being presented to customers by a promotions team at locations around the district. Customers will be awarded for simply enjoying the district – everything from "marathon lunches" (still out on the patio at 2 pm) – to "vertical swimming" (heading out despite a massive downpour.)
The team will be visiting as many locations as possible to engage customers in fun and playful spontaneous "medal ceremonies," where winners will receive a specially-crafted medal.
Media photo opportunities are available of the presentation ceremonies as ecstatic winners are draped with their medals. The "surprise, awe and delight" of our customers as they receive an award will make entertaining and engaging footage.
Still photos and video of the TOED medal presentations are available online on our social media channels. The campaign will be promoted through the use of tent cards and coasters.
Jubilant gold medalists are also presented with a card that drives them to special offers online being offered by TOED businesses.
"We are very excited to connect with our customers and to let them know that they are all gold medal winners for visiting the District," says Janice Solomon, Executive Director, of the Toronto Entertainment District Business Improvement Area. "These are the Games that are always on in the Entertainment District."
Solomon says the TOED welcomes visitors attending the Pan Am Parapan Games to a 'jewel in the heart of the City'.
About the Toronto Entertainment District Business Improvement Area:
Established in 2008, TOED's mandate is to promote, improve and preserve a dynamic area of Toronto. Benefitting from economic, environmental and social factors driving downtown growth, the Entertainment District is in the midst of a renaissance, firmly establishing itself and a thriving and vibrant district for living, creating, working and entertainment. From Air Canada Centre to the Four Seasons Centre for the Performing Arts, the Entertainment District includes many of Toronto's most iconic buildings. In the heart of The District is the CN Tower, Steam Whistle Brewing, Ripley's Aquarium of Canada, Metro Toronto Convention Centre, MetroCentre, Rogers Centre, Roy Thomson Hall, Princess of Wales Theatre, Royal Alexandra Theatre and TIFF Bell Lightbox.
Visit us at www.torontoed.com
For More Information, please contact
Janice Solomon, Executive Director
Toronto Entertainment District BIA
Facebook.com/torontoed
Twitter: @toronto_ed
– 30 –